Hi Extinction Elites!
Are you in the mood for a challenge? Let's hope so because today we kick off the Winter Challenge!
Besides the honor of being number one, getting a special role on discord displayed on top of all others stating you are the best, and the obligatory bragging rights, you can win this buzzingly superb nameplate.

The Electric Winter nameplate can only be received by winning this year's Winter Challenge, so you won't get another shot at getting it.
How do you enter?
The Winter Challenge takes place on the Second Extinction official discord server (join it here) from December 16 – January 12, in the Winter Challenge-channel in the Community Category.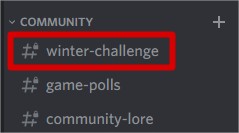 In this channel, you can also read the rules and conditions in case you need a refresher later. If players have begun submitting entries, you can easily find the rules by looking in the pinned messages.
You enter by:
Submitting a screenshot of your stats screen that shows after a successful Expedition run.

Write a summary of how you approached the challenge (max. 500 characters).
What is the challenge?
With Expedition Mode being the most anticipated feature of Pre-season 2: The Hornet's Nest, this will be the mode to play.
The rules are simple:
The most damage dealt on a successful Expedition Mode-run wins.

The three players with the best results win.

The run needs to be made in under an hour.

You may choose whichever difficulty setting you like.

The run can be made solo or with other players, but you compete individually, not as a squad.
Any additional rules?
You need to have a full Apex Connect account. If you skipped out on making one when you first logged into the game, you can create one in-game. Go to Settings -> Apex Connect and click "Upgrade Account."

If you win, you'll need to provide your Steamid64 for us to be able to give you your Electric Winter nameplate. You can see what your Steamid64 is

here

. We will send you a DM and ask for this if you win.

No more than one entry – if you post a run and later do a better run, remove the previous run before posting the new one. Any player with multiple entries will be disqualified.

No cheats allowed. We will look at the details of your run from the backend to make sure the run was made fair and square.
When will the winners be announced?
The winners will be announced on the 13th of January, the day after the competition ends in the Winter Challenge Discord channel.
When will I receive my prize if I win?
You will receive your "Winter Challenge Winner"-discord role, bragging rights, and honor right away. The nametag will arrive on your account a short while later, together with the January update, date still to be announced.