State of the Game – October 6
Hello, Extinction Elites!
Welcome to the Pre-season 6 State of the Game Letter. Pre-season 6 has been a whole year in the making: many of the improvements and features resulted from early feedback we received right as we launched Second Extinction into Early Access. In-game communication was a big request, as was the desire for some sort of Horde-type gameplay. It took this long to bring it in because we knew we had Xbox and its ecosystem joining the family, and we wanted to make sure we could enact crossplay at the same time – a Systemic Reaction first, in all honesty.
The inclusion of the Wardrobe function (being able to preview your cosmetics AND know what was out there) and improved matchmaking experience was also a direct result of what you were saying. We're very happy to be able to deliver such a whammy! But, there is still more to do…
We also want to note that we're aware that new issues emerged for some of you with the release of Pre-Season 6: crashes, freezing, spawning, and audio issues being among the most common ones. We are investigating and working on fixes that will be pushed as soon as they're ready. If you encounter any issues, please reach out to support here. The more information we have on when it's happening, the easier it will be for us to figure out the why and find the best solution.
What We Have Learned
Solo Play
Pre-season 5 in-game survey asked very specifically about people's playstyles, especially as it relates to solo vs. co-op play.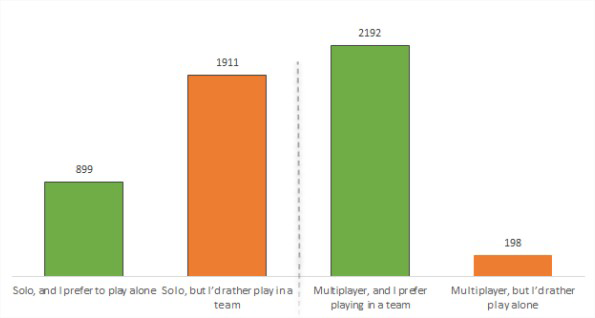 The orange bars represent those players playing the game in a different way from what they prefer. Over 2/3rds of those playing solo prefer to play in a team.
This isn't unusual; we've been aware of players expressing dissatisfaction with being unable to play multiplayer for several reasons, and we have some theories as to why. We're hoping that the inclusion of crossplay and the better matchmaking system introduced in Pre-season 6 will help those players play the game in the way they want to. We're going to ask the same question in the Pre-season 6 survey, compare that with the game data we have and see if anything has changed in terms of players being able to play to their satisfaction.
However, that doesn't mean we're ignoring the solo-by-choice folks. We still have a couple of theories to test out in future updates that we hope will address some of the complaints about solo play in general. What will they be? Well…. You'll have to find out 🙂
Difficulty
We introduced difficulty levels way back in Supply Drop 1, our first update once we launched into Early Access. Just in time for the anniversary, we had a look at how many missions were being run per difficulty level:

An interesting finding; we were expecting a bit more Hard and Insane runs. Maybe it's skewed? But even the mission with the lowest percentage of Normal runs still was rather high – this is Black Site:

What does this mean? Not sure yet, but it is certainly interesting.
What We Are Doing
Our two biggest milestones we wanted for the year are now past – our launch on Xbox and Pre-season 6. A lot is riding on this latest update, and how well it goes will determine if we start looking towards a 1.0 (or as we call it, "launch launch") experience.
Early Access was always designed to be focused on features and rounding out the game experience. In terms of content, we now have a full roster of characters, three modes of play (Expedition, Missions, Horde), three difficulties (Normal, Hard, Insane), a pretty nice pool of Emergence Events, and two ways to customize your play via weapon upgrades and armor augments. There is certainly room for more, but we wanted to ensure we have a lot of the core experiences expected for a co-op game developed and launched.
Based on much of the feedback from you throughout this year, we hope we've gotten to a good place in YOUR minds to start seriously thinking about what our launch launch will look like. Expect launch launch to include more content than what we have, don't worry; but other than that, we want to hear from you whether you think we're in a good spot to consider exiting Early Access. Not that exiting Early Access will affect our development roadmap post-launch; we'll still make sure to have the same level of engagement with the community for the game's development and evolution.
And as always, technical stability is never far from our minds. Over the next couple of months, we will be digging deep and hard to find the cause of problems across all platforms.
One Final Note
Leaderboards were a core component of Horde Mode as we know that the competitive element of it is part of what makes it fun. Unfortunately, that feature wasn't ready for the update, but we will introduce it in late October. If you like it and want to see more, we're definitely open to suggestions on what other aspects of Second Extinction could be better with a Leaderboard. Perhaps a list of all the people who successfully completed Black Site on Insane difficulty? Let us know in our Discord!
Cheers,
The Second Extinction Team