State of the Game – February 3
Hello, Extinction Elites!
It's a little late for a start-of-the-year introduction, but with Supply Drop #2 under our belts and our eyes on Pre-season 3 coming up, I wanted to give you a little bit of an update on how we're going. As always, the State of the Game letter's goal is to provide an open channel between you and us. Feel free to reach out at any time in the Discord, however.
What We Have Learned
With Preseason 2, we introduced a whole bunch of new things.
First, we started little in-game hints in the weeks leading up to Preseason 2 about mysterious mutated eggs in the region. Due to a few reasons, only a few of you noticed and went about their merry way. We still think it's a cool idea, these breadcrumbs, and they help with a little more of the story-telling that we see a few people ask about. These breadcrumbs won't be around in the lead-up to Pre-season 3, but we'll find a way to re-introduce them at a later date – maybe with a bit more of a bigger bang, perhaps.
Second, we introduced Expedition Mode – and, wow, it's proven to be the most popular mode so far! Nearly half of you have jumped into it since we launched it: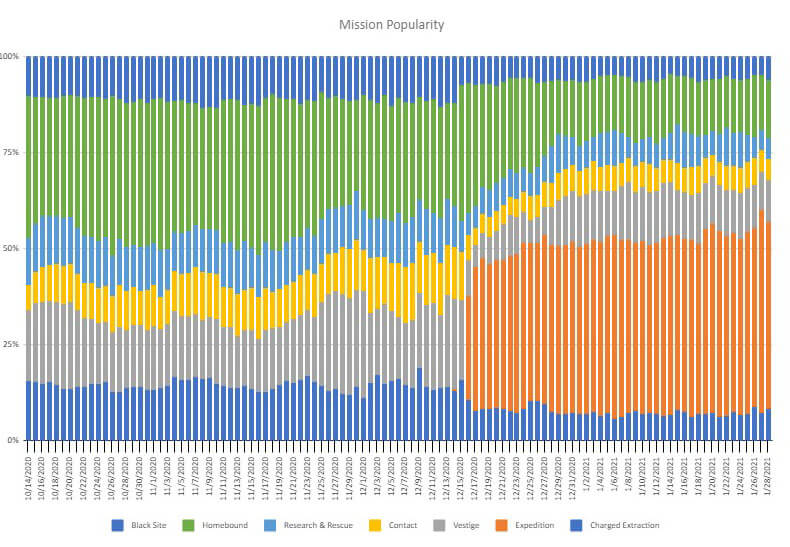 As mentioned in a previous letter, we wanted Expedition Mode to be the safe place for solo players to get their toes wet in the crazy pool. And it seems like it's doing the trick; as you can see in the chart below, on average, over 63% of mission attempts in Expedition Mode are from solo players.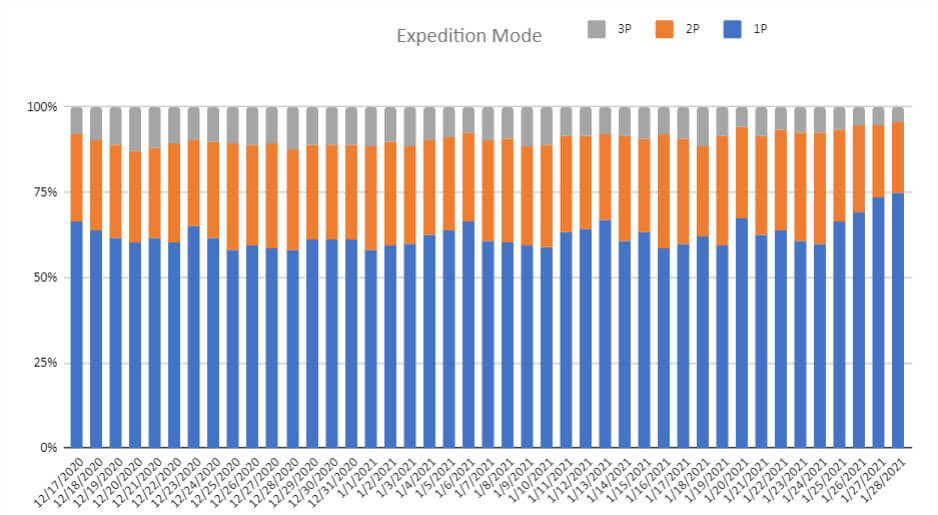 As a result, we see the other missions become more popular with groups.
We're not at 100% for solo play yet. Some eagle-eyed folks saw that we removed the "single player" tag from the Steam store. We don't want to mislead people who buy the game and expect a game catered to a single-player experience. But as you can see, and as we promised earlier, we are looking to make the solo player experience better as we can see that a large portion of the playerbase is trending towards that behavior.
What We Are Doing
We're still working on the high priority items mentioned in the previous State of the Game. Some items, like matchmaking, will be tweaked through incremental updates. Other items will be released as part of future Pre-seasons. Lastly, we're going to take another pass at the Difficulty Levels of the missions very soon, as some of the feedback from that update showed mixed reactions to the difficulty of each level.
And as always, we're constantly working on improving the stability of the game. We're aware that the recent Supply Drop has caused crash issues for some players, and we urge those who are experiencing those problems to reach out to our Customer Support team so we can identify the cause and patch the solutions.
What We Want To Hear From You
The game has been out for a little while, and we're still collecting all that great feedback from the players. Normally, this is where I list all the suggestions we're considering, but I would like to flip it back to you: what did you like about the things we introduced in Preseason 2?
Here are some of the things we'd love to get your thoughts on:
Seasonal Contract Chains. These are special contracts that activate once-a-week, contain exclusive cosmetic rewards, and are meant to provide a little story as we go through the season. Did you like them? Were there too many? Too few? and how did you feel about the once-a-week unlock?

War Effort: We changed the War Effort to update 2x a week, for the most part. We're still shaking out a few things on the technical side, but in general, we felt it made things more dynamic. What did you think? Did you like seeing your contributions change the map this frequently? Did it make you more eager to kick dino butt more often?

Overmutated Raptor: were these guys just as awesome for you as they were for us?
One Final Note
Our year is looking pretty exciting. Expect an updated roadmap coming soon with all our plans, and please continue giving us your feedback. Thanks for being with us on this Early Access journey, and please consider joining us in our Discord!
Cheers,
The Second Extinction Team.